News | Rainbows and Clover
Click here to read our article on fair trade
, where we stand amongst it all, and why we all need to support ethical manufacturing and fair trade!
Save
Save
Save
Save
Save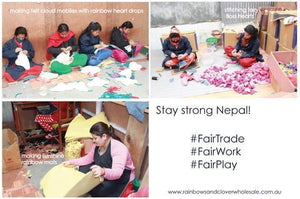 Oh, what an emotional week it's been at Rainbows and Clover HQ, and all over the world ... our arms go around all of you this week, who need a bit of extra love during these times.
Our factory in Nepal has been hit hard; the entire village has been wiped out, our gorgeous head honcho, Biswash, who co-ordinates all the felt making, has had to set up tent with his wife, 3 year old daughter, and 20 day old newborn baby.  It's devastating for all, to say the least, and he has phoned and emailed this week (extraordinary that he's even found a way to phone/email out!) letting me know how grim things are, and talking of the devastation of it all - both physically and emotionally.  Blog post continues here ...