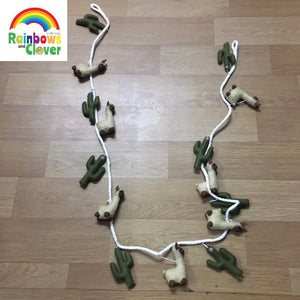 Llamas are so popular because they are so darn cute! They're also so on trend! Think "no problama" and it'll bring a smile to your face. Teamed with the cactus they look gorgeous in any setting; wrapped around your teepee, along a mantlepiece, curtain rod, or even as lounge room decor.  They're a great conversation starter, and really add some quirky fun to your home.
Notes:
Approx. 2m including loops at end of the felt rope for easy hanging.
Hand felted in Nepal, using 100% NZ wool, they're hand-dyed, hand-felted, and stitched with love.
Fairtrade : Rainbows and Clover are proud to be supporting a time-honoured tradition, handmade by skilled artisans who are paid a fair wage and work in favourable conditions in Nepal, helping village people in their villages doing the handiwork that they love.