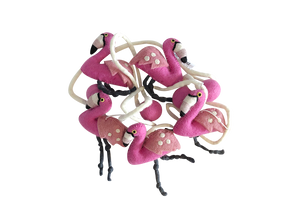 Pink Flamingos are so popular because they remind people of a happy place. This graceful bird lives its life far away from city life, they're only seen in the wild in the tropics - their natural habitat. Pink Flamingo Décor symbolises quirkiness, fun and style. Flamingoes, with their grace and beauty, long elegant necks and skinny legs, gracefully walk in the shallow marshlands where they feed, and a few items using pink flamingo décor is really fun in a place that one would not expect to see them. Pair our pink flamingo garland with our pink flamingo puppet or pink flamingo mobile for a bunch of pink flamingo fun! They're a great conversation starter, and really add some quirky fun to your home.
Notes:
Approx. 2m including loops at end of the felt rope for easy hanging.
Hand felted in Nepal, using 100% NZ wool, they're hand-dyed, hand-felted, and stitched with love.
Fairtrade : Rainbows and Clover are proud to be supporting a time-honoured tradition, handmade by skilled artisans who are paid a fair wage and work in favourable conditions in Nepal, helping village people in their villages doing the handiwork that they love.